Hello Team,
I am writing to inform you that we are doing work on 21 CFR part 11 security configuration points. So, till now we are able to configure users' creation, user remove and change password all these configurations are done on runtime.
Now we are doing work on security rights / access level, or we can say policy as seen in Image When Operator Security level is selected and password option is selected that is Minimum Password size, Minimum number of special characters, Minimum number of numeric characters password expiry, etc. will be applicable for all users that we will be creating under Operator level, but all these configurations should be done on Run Time Environment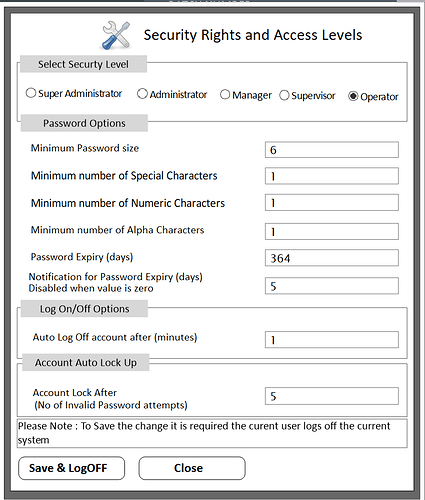 As we attached screen image in this mail, we want these configurations on runtime as much as possible. The options which you are Additionally, we want User Block/Unblock option on runtime.